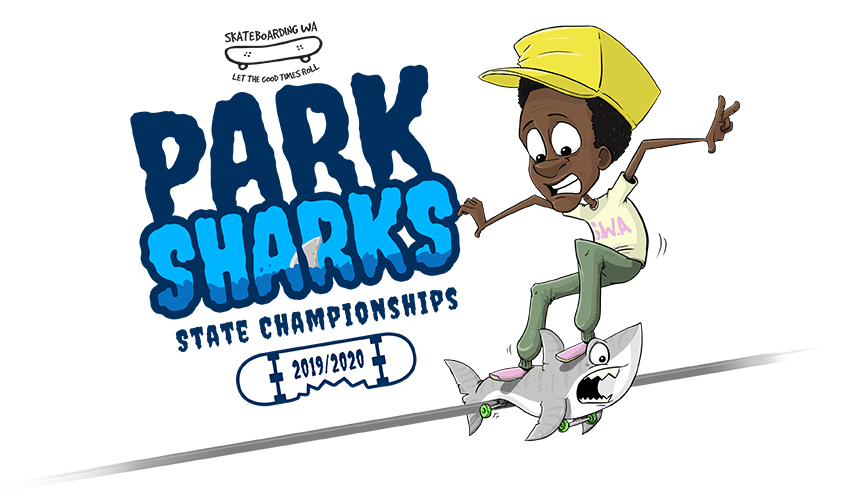 Park Sharks Leaderboard
Points tally is correct as of 03 Feb 2020. Please note you must attend a minimum of 5 stops including the final at Mills Park Plaza to be in the running for the Park Sharks Championship title and prize money. 5 more stops to go!
Men's Open Division
Place
Name
Points
1st
Sam Orme
90
2nd
Alex Konle
66
3rd
Jude Williams
60
4th
Zac Clinkers
51
5th
Flynn Jackman
45
6th
Daine Brown
Nate Dizzle
Sunny Cooke
20
7th
Bill Bevan
Connor Atkinson
15
8th
Dylan Adamson
14
9th
Jack Todd
11
10th
Jamie Muirhead
Keith Bennett
Luis DiSilvio
10
Women's Open Divison
| | | |
| --- | --- | --- |
| Place | Name | Points |
| 1st | Claudia Duane | 105 |
| 2nd | Lily Henry | 75 |
| 3rd | Bonnie Baugh | 55 |
| 4th | TJ Cross | 50 |
| 5th | Zoe Koong | 41 |
| 6th | Madison Ware | 39 |
| 7th | Tina Wan | 25 |
| 8th | Audrey Mickan | 20 |
| 9th | Jessica Schweir | 15 |
| 10th | Charly Page | 14 |
Juniors (14 & Under) Division
Place
Name
Points
1st
Rollins Moore
75
2nd
Sebastian Messenger
74
3rd
Cruz Evans
52
4th
Malik Garcez
46
5th
Vai Evans
42
6th
Marco Peronne
38
7th
Archie Anning
34
8th
Angus Fuller
26
9th
Hunter McGill
Oliver Gannaway
Zen Evans
20
10th
Callum Mac Donnell
16
Register for each of the Park Shark series stops by clicking on the links below.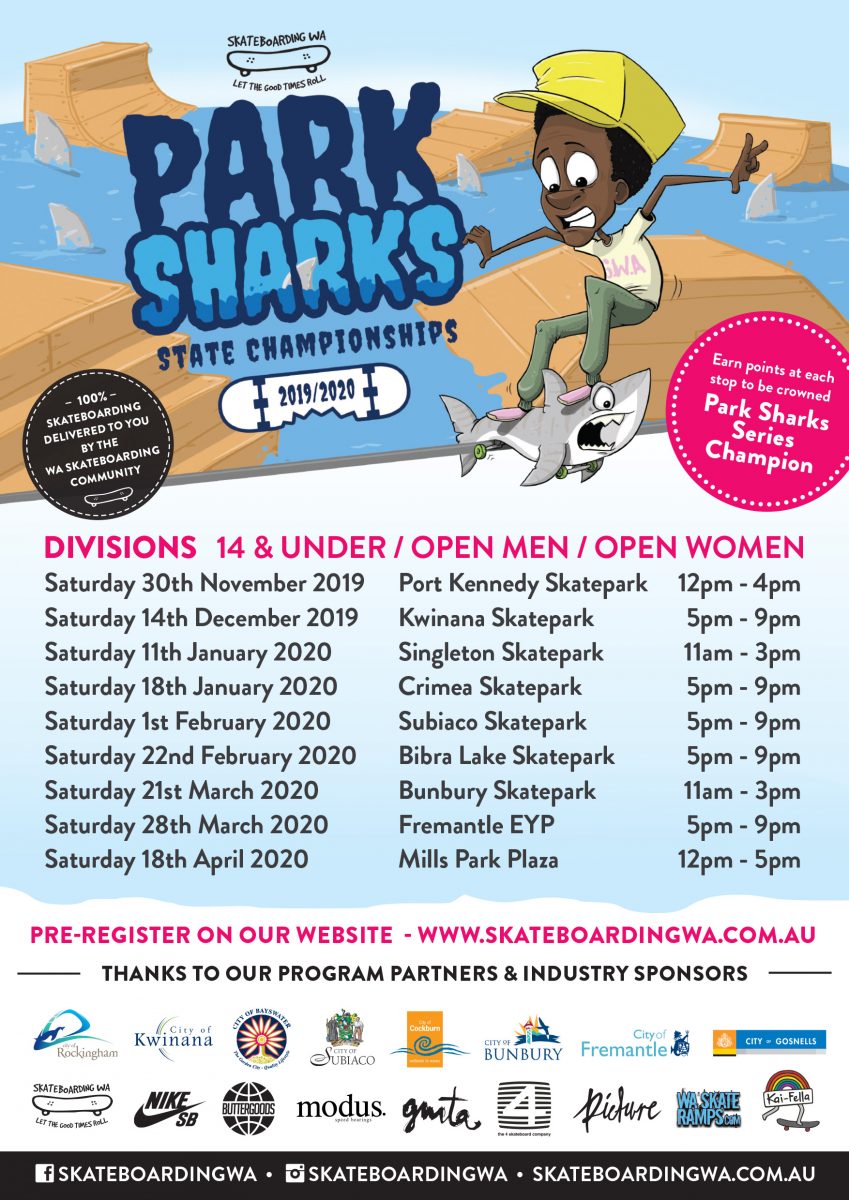 Park Shark Skateboarding Competition – Terms & Conditions
The Park Shark competition is a Skateboarding Competition run by Skateboarding WA (SWA) and is subject to these terms and conditions. Eligible participants are deemed to have accepted these terms and conditions.
SWA's decisions regarding prizes and determination of eligible winners is final.
The winners will be decided per the competition rules and points system, as decided by the competition judges. See the Points System and Judging Criteria sections below.
The winner will be notified at the event, by competition representatives. If the winner is not present, the competition representatives will attempt to contact the winner using the contact information provided by the winning participant.
Prizes will be provided to the wining participant at the event unless other arrangements are agreed by the winning participant.
Prizes must be taken "as offered" and cannot be varied or extended or transferred.
SWA is not liable for any loss, damage or injury arising out of, or in any way connected with this competition and/or the prize.
All contest participants consent to SWA using their name, suburb and photograph for publicity purposes.
If, for any reason, any aspect of the competition is not capable of running as planner, SWA in its sole discretion may cancel, terminate, modify or suspend the competition.
SWA reserves the right to change the duration, timing and dates of the competition.
Divisions
14 & Under *
Open Men's
Open Women's
* Competitors aged 14 at the time of submitting an entry but turning 15 on any day before Saturday 18th April 2020 must enter the relevant Open Division.
Prize Pool
The total value of all available prizes is $10,000. The total prize pool has been generously provided by the competition sponsors.
Prizes for 1st , 2nd and 3rd place are given for each division at all 9 Park Sharks competitions.
Park Shark points are awarded for places 1st to 10th. Park Shark points will accumulate throughout the series.
Overall Series Champion and $1500 Prize Money
Awarded following the Mills Park Event based off the highest scores accumulated over the entire series of 9 Park Sharks competitions.
To be eligible for the title of Champion for a division, and to win the prize money, competition entrants are required to compete in at least 5 competitions including the Mills Park final.
Points will be awarded for 1st to 10th place at every Park Shark series competition event.
Equal prize money for the series Champion for each division is a total of $500.
If, at the end of the final competition event at Mills Park, some competitors have equal highest points, there will be a sudden death heat at the Mills Park event to decide the 1st and 2nd place finish.
Points System
| | |
| --- | --- |
| Placement | Points |
| 1st | 25 |
| 2nd | 20 |
| 3rd | 15 |
| 4th | 10 |
| 5th | 6 |
| 6th | 5 |
| 7th | 4 |
| 8th | 3 |
| 9th | 2 |
| 10th | 1 |
Judging Criteria
Competition judges will score runs based on the following criteria, so keep these in mind when execution your run:
Style, speed, flow, power
Tricks landed, technique, execution, consistency, difficulty, variety
Park use, originality, creativity,
All judges are experienced skateboarders and make decisions based on their professional opinion. Skateboarding can be subjective. If you disagree with a decision or competition outcome, please don't take it personally. Skateboarding should be fun for everyone, and the judges make their decisions very carefully.
Judges may take points off your score for:
Poor technique
Poor sportsmanship
Skating on or crossing the park when other competitors are completing their run.
Failing to follow the directions of the event staff.
Park Sharks Etiquette / Code of Conduct / Sportsmanship
Skateboarding in fun! Please help us make sure everyone enjoys the competition by adhering to the following Code of Conduct.
Spectators and Competitors are expected to behave in a positive manner with good sportsmanship at all times.
All events are strictly smoke, alcohol and drug free.
All spectators and competitors must respect all of their fellow competitors, spectators and event staff.
No skateboarding on or crossing the skate park is permitted while another competitor is completing their run.
Abusive or disrespectful language will not be tolerated from competitors or spectators.
Management reserves the right to refuse entry or remove any participant or spectator from the area if they deem that person has violated any of the competition rules as outlined in these terms and conditions, the venue rules or for any other reason.
Let's have fun and let the good times roll!
Mills Park Series Final info:
Eligible participants may enter this event via online registration.
1st , 2nd and 3rd place winners for each division will be awarded prizes based solely off the Mills Park event runs.
This is separate to the overall series Champion.
The overall series Champion is NOT automatically the Mills Park winner. The overall series Champion is decided by the total points accumulated across the entire series.
To be eligible to win the series Champion title and $500 prize money for your division you must have competed in at least 5 of the Park Sharks series competitions including the Mills Park competition and have accumulated the highest overall score.